Will man destroy himself?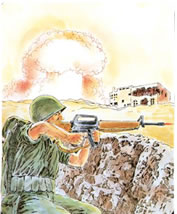 Biblical prophecy is evident to be seen almost everyday to those who are familiar with the Bible. Jesus prophesied that one of the signs of the end time would be wars and rumours of wars etc. Jesus is completely familiar with this picture, and describes it as a time of revolution, of uprising, and military conflicts, when he says, "Kingdom against kingdom"; and then he says, "All these are the beginning of sorrows"(Matthew 24,6-8).
Who can deny this prophecy in our present day and age? The daily headlines are negative: revolts, murder, injustice – to such a great extent like there has never been before. The word "tribulation" actually means "labor pains". An event will take place on such a great scale, that all the nations will be affected by it, giving birth to a new age at the end. Leading up until the time that this event takes place, acts of violence will be carried out by people and nations. Therefore, Jesus compares this period of time with the painful contractions which a woman experiences in her whole body before giving birth to her child.
Since the 20th Century there were well over 126 military conflicts, among them were the two bloodiest wars that this world has ever seen. 56% of them occurred in the last two decades. The USA alone was involved in 15 conflicts. Similar statistics show a parallel increasing development of which Jesus spoke about, which also are included among the "labour pains": Even greater earthquakes, droughts, storms, hurricanes and signs in the heavens point in the direction of the end time (Matthew 24,7; Luke 21, 25-26). The nations have no answer to how they can be "LORD" over these things. They are unable to stop it, there is only One who is able to do that.
However, so long as they have no interest in Jesus Christ, nothing will change. Jesus said himself that the world lies in the hands of evil. The effect of the cares and needs of humanity living under such circumstances is clearly evident by the heart attacks and emotional fears which are prevalent. All these things together portray a realistic picture of a time period which will be before the end comes.
Another prophecy which should not be ignored is the birth of the nation Israel. Jesus prophesied this when he compared the Jewish nation to a fig tree which begins to bring forth its leaves (Matthew 24,32-33). When it begins to bring forth its leaves, we know that the cold winter is over and the summer is nearby. The people Israel travelled through centuries of history and had no place among the nations. God said in the Scriptures that, He would bring them one day back into their land again and that this would be the last generation. This took place in 1948 when Israel returned back to their land. In addition, Jesus predicted the capture of Jerusalem by the Jewish troops in the year 1967 (Luke 21, 24).
It is amazing how exact the Bible describes the future events. We need to open our eyes to the fact that, these events are no coincidences and we should seriously think about our salvation. For Jesus is coming again, not like a lamb as He did the first time around, but rather this time with judgment, and angry like a lion is when someone wants to take his cubs away from him.
Further prophecies of the Holy Scriptures which refer to the end time are found in parts of the books from Daniel and John. They both see how an antichrist appears in the end time and is accepted by this present day world. Another theme is the pollution of the environment; but although this is already bad, there is still a worse type of pollution. This happens to be the pollution of the human heart, which will bring about the divine judgment at this particular time. Nowadays it is a rare thing to find respect shown towards God. God regretted that He made mankind at that time, apart from Noah and his house. It was so bad that God put an end to all life on earth by water. As according to the Scriptures, this last time it will take place by fire. Then all the works on earth will find an end. Peter who walked with Jesus says in 2.Peter 3,7-13, "But the heavens and the earth, which are now, by the same word are kept in store, reserved unto fire against the day of judgment and perdition of ungodly men. But, beloved, be not ignorant of this one thing, that one day is with the Lord as a thousand years, and a thousand years as one day. The Lord is not slack concerning his promise, as men count slackness; but is longsuffering to us-ward, not willing that any should perish, but that all should come to repentance. But the day of the Lord will come as a thief in the night; in the which the heavens shall pass away with a great noise, and the elements shall melt with fervent heat, the earth also and the works that are therein shall be burned up. Seeing then that all these things shall be dissolved, what manner of persons ought ye to be in all holy conversation and godliness, looking for and hasting unto the coming of the day of God, wherein the heavens being on fire shall be dissolved, and the elements shall melt with fervent heat? Nevertheless we, according to his promise, look for new heavens and a new earth, wherein dwelleth righteousness."
This day is not far off and only those who are obedient to the gospel of Jesus Christ have hope for deliverance from these coming events. Do you belong to those who are obedient?