Young Lions Sometimes go Hungry
Exodus 19:5 Now therefore, if ye will obey my voice indeed, and keep my covenant, then ye shall be a peculiar treasure unto me above all people: for all the earth is mine.

1 Corinthians 15:2 By this gospel you are saved, if you hold firmly to the word I preached to you. Otherwise, you have believed in vain.

Matthew 6:33 But seek first the kingdom of God and His righteousness, and all these things shall be added to you.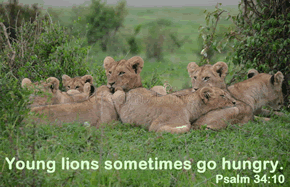 Have you noticed the promises of God are conditional? He does not just make promises without expecting something from us. He promises to take care of us, if we follow His Word. Let me give you an example.

"O fear the LORD, ye his saints: for there is no want to them that fear him. The young lions do lack, and suffer hunger: but they that seek the LORD shall not want any good thing. Ps 34:9-10

If we fear or reverence the Lord, we will not want or be in need. God promises to take care of us. In fact, the Psalmist gives us the example there are times when even the mighty lion will have to do without and be hungry. However, those that seek God and fear or reverence Him will never want for anything good. Therefore, if I am keeping my priorities right and seeking first those things important to God, God is going to watch over me. He will take care of those things that are important to me. Don Doran

It's just a thought!
Additional scriptures for further study: Deuteronomy 11:13-15, 2 Chronicles 7:14; 28:1-14; Psalm 37:4; Jeremiah 3:11-18; Matthew 5:1-11; John 14:13-14; Acts: 2:38-39; James 1:12; 1 John 5:14; Revelation 2:7, 11, 7, 26 .