Giving everything you are into everything God is
Psalm 2 Why do the nations rage, and the people plot a vain thing? The kings of the earth set themselves, and the rulers take counsel together, against the LORD and against His Anointed, saying, "Let us break Their bonds in pieces and cast away Their cords from us." He who sits in the heavens shall laugh; the Lord shall hold them in derision. Then He shall speak to them in His wrath, and distress them in His deep displeasure: "Yet I have set My King on My holy hill of Zion." "I will declare the decree: The LORD has said to Me, 'You are My Son, today I have begotten You. Ask of Me, and I will give You the nations for Your inheritance, and the ends of the earth for Your possession. You shall break them with a rod of iron; You shall dash them to pieces like a potter's vessel.'" Now therefore, be wise, O kings; Be instructed, you judges of the earth. Serve the LORD with fear, and rejoice with trembling. Kiss the Son, lest He be angry, and you perish in the way, when His wrath is kindled but a little. Blessed are all those who put their trust in Him.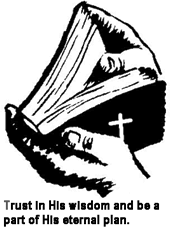 This psalm is a great example of how futile it is to try to rebel against God. God laughs at our plans when we go against His plans.

If you are searching for true freedom, you will never find it in rebellion. Freedom is found in submission, which is the flip side of rebellion. Submission to God is giving everything you are into everything God is. Submission leads to freedom.

Don't you think that if Jesus was capable of planning His coming, He could also plan your life?

Trust in His wisdom and be a part of His eternal plan. jk

As we might ponder, what this new year will bring, we can be assured that we are blessed, when we trust in God. What matters is our personal relationship with Him. When we are close to Jesus, we can face every challenge. The song composed by Don Marsh declares it like this:

Because He lives, I can face tomorrow,
Because He lives, all fear is gone,
Because I know He holds the future,
And life is worth the living,
Just because He lives!
Wishing all of us a Happy and Blessed 2020.
Additional scriptures for further study:
Numbers 17:10; Psalm 9:10; 91:1-2; 143:8; Proverbs 3:5-6; Isaiah 26:3; Nahum 1:7; Romans 13:1-7; Titus 3:1; Philippians 2:3-8; 1 Peter 5:6; Hebrews 13:17; Hebrews 13:6; 1 John 2:28; Jude 1:6-9