Have you applied the blood of Jesus in your life?



Ephesians 1:7 In him we have redemption through his blood, the forgiveness of sins, in accordance with the riches of God's grace.

1 Peter 1:18-19 Forasmuch as ye know that ye were not redeemed with corruptible things, as silver and gold, from your vain conversation received by tradition from your fathers; But with the precious blood of Christ, as of a lamb without blemish and without spot.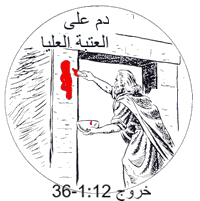 The history of Passover starts with the tenth plague God sent to the people of Egypt - death to the firstborn. The Israelites were given special instructions to save their firstborn from death. They were told to smear blood from a lamb over their front door.

This blood was a sign to the "Destroyer", or the "angel of Death," to pass over those homes. Those who didn't put blood over their doors, mostly Egyptians, experienced a massive death throughout the "Passover night."

Passover is a tragic story of death but a beautiful story of God's saving power and promise to save the Israelite people from Egyptian captivity.

God keeps His promises! jk

Jesus is the Lamb of God. He shed His blood for the remission of sin of all mankind. We don't need to be slaves to sin anymore. He came to save and deliver you and me.

John 1:29-30 The next day John saw Jesus coming toward him and said, "Look, the Lamb of God, who takes away the sin of the world! This is the one I meant when I said, 'A man who comes after me has surpassed me because he was before me.'

1 Corinthian 15:3 For I delivered unto you first of all that which I also received, how that Christ died for our sins according to the scriptures.

Have you applied the blood of Jesus in your life?

1 Peter 1:18-19 Forasmuch as ye know that ye were not redeemed with corruptible things, as silver and gold, from your vain conversation received by tradition from your fathers; But with the precious blood of Christ, as of a lamb without blemish and without spot.

Acts 2:38 Then Peter said to them, "Repent, and let every one of you be baptized in the name of Jesus Christ for the remission of sins; and you shall receive the gift of the Holy Spirit"

Acts 22:16 And now why are you waiting? Arise and be baptized, and wash away your sins, calling on the name of the Lord.

Additional Verses for Study: Exodus 12:1-36, Matthew 26:28, Mark 16:15-16, 1 Corinthian 10:1-4,-Galatians 3:27, Ephesians 1:7-10, Hebrews 8:3-13, 9:11-14, 1 Peter 3:18-22, Revelation 1:5